Root in Nature was formed when a group of women who share a common passion for plants and nature came together. We use a team approach to offer programs to diverse populations and serve the community where we see the greatest areas of need, including working in long-term care homes and with autistic youth.
Each team member brings a unique background and specialty, from horticultural therapy to social work and climate psychotherapy, and together we form a strong network of wellness providers.
We continue to find ourselves in uncertain times, but we are drawing on everything that nature represents – resilience, hope, renewal and growth.

— Alexis, Founder & CEO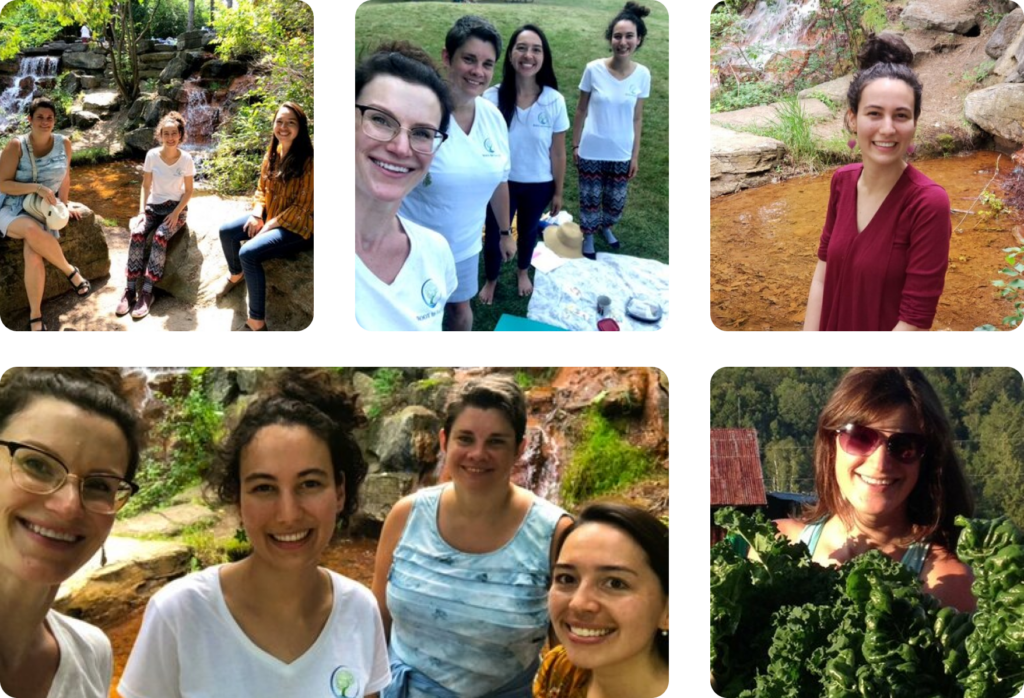 A world where people live their healthiest lives through connection with plants and nature.
Root in Nature strengthens human health by connecting people with plants and nature through horticultural therapy, programs and education.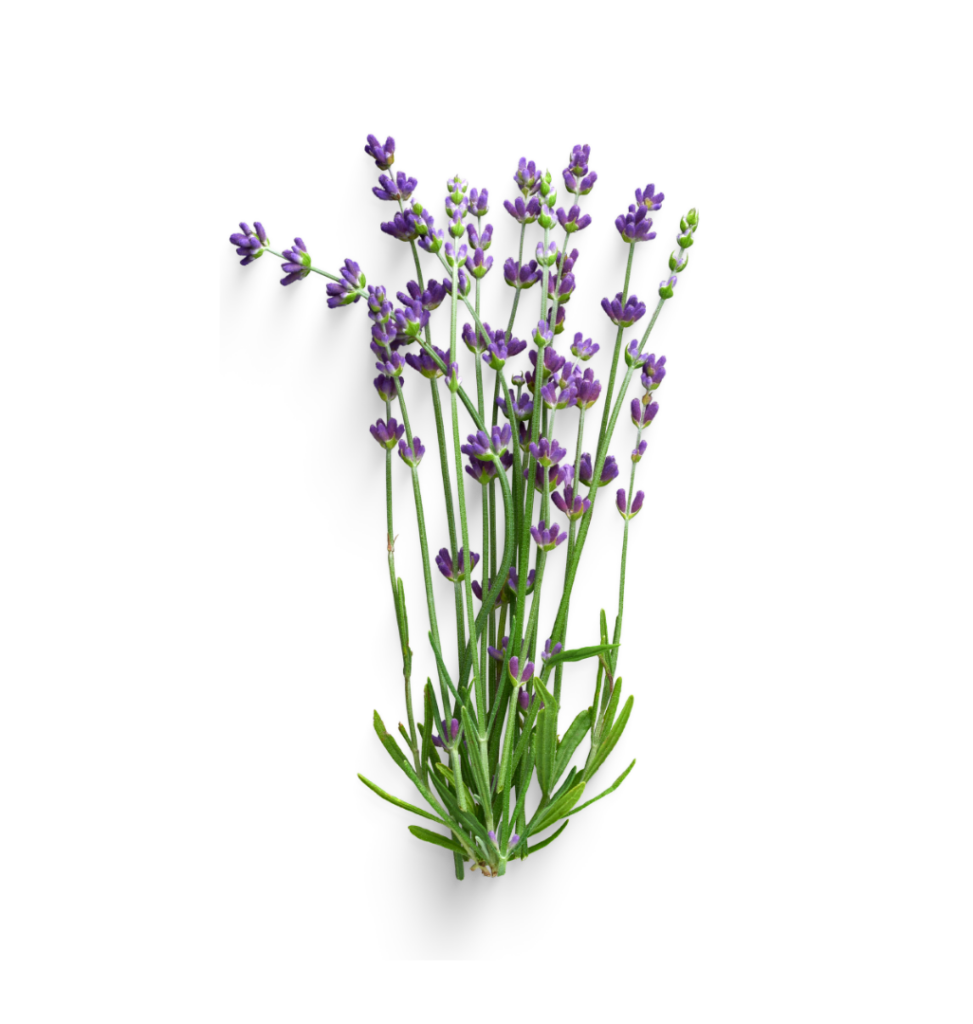 We empower community members from diverse backgrounds and experiences and develop programming to meet unique needs, while upholding our shared responsibility to preserve and protect the natural environment.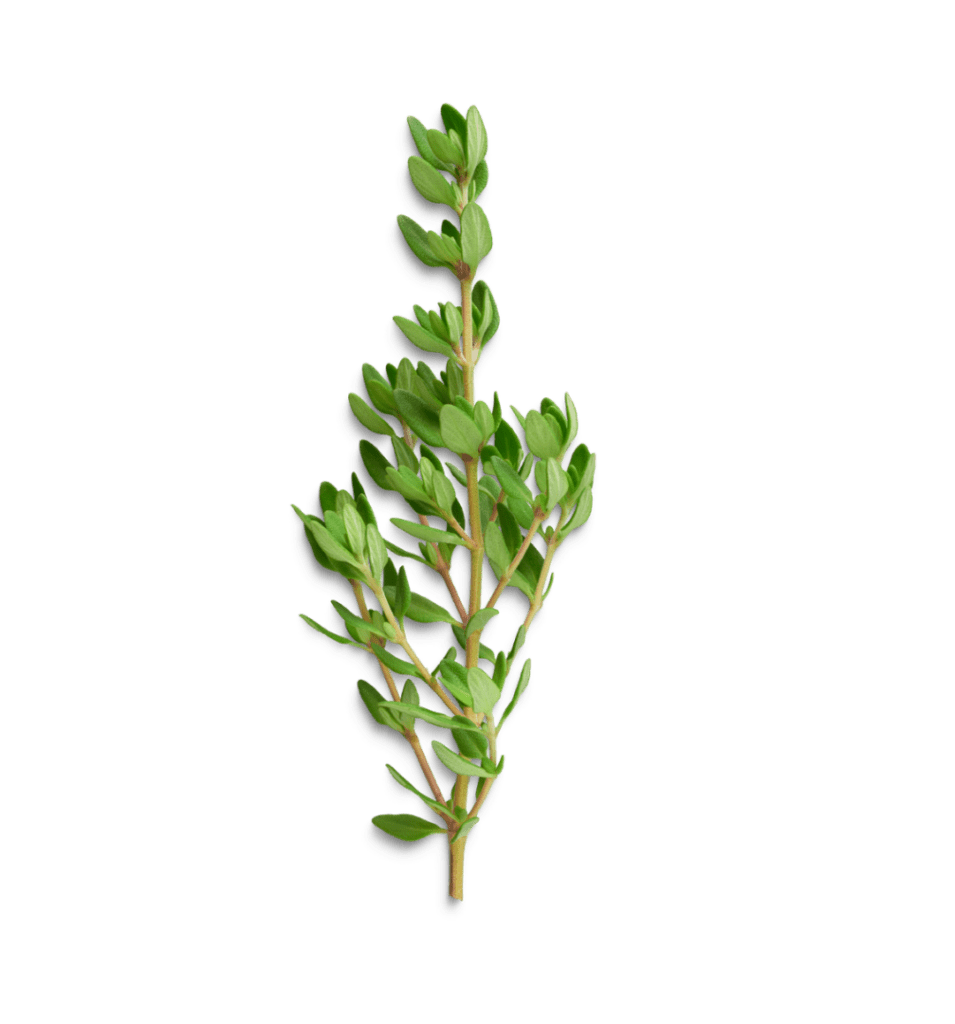 We embody empathy, patience and care for each other and the clients we serve.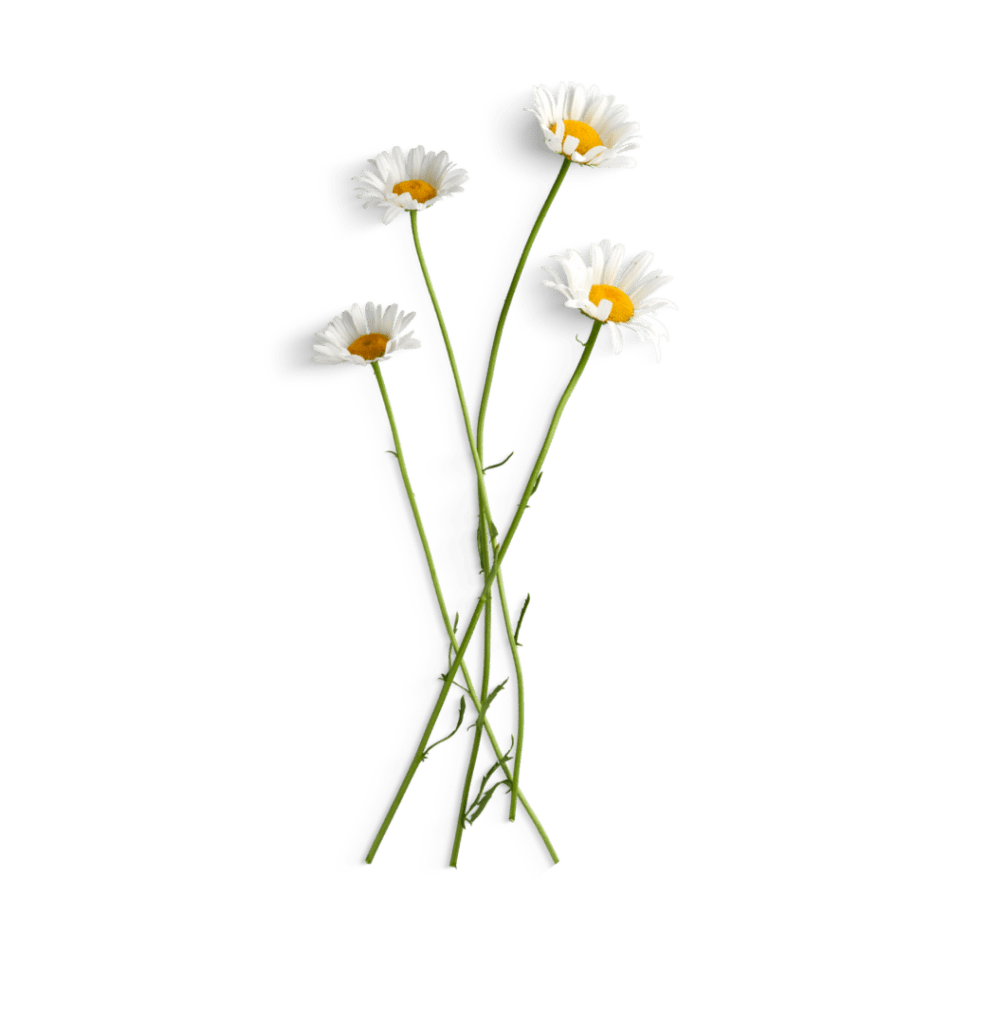 We are united in the commitment that every person deserves to be treated with respect, acceptance and understanding, and ensure this is reflected in everything that we do.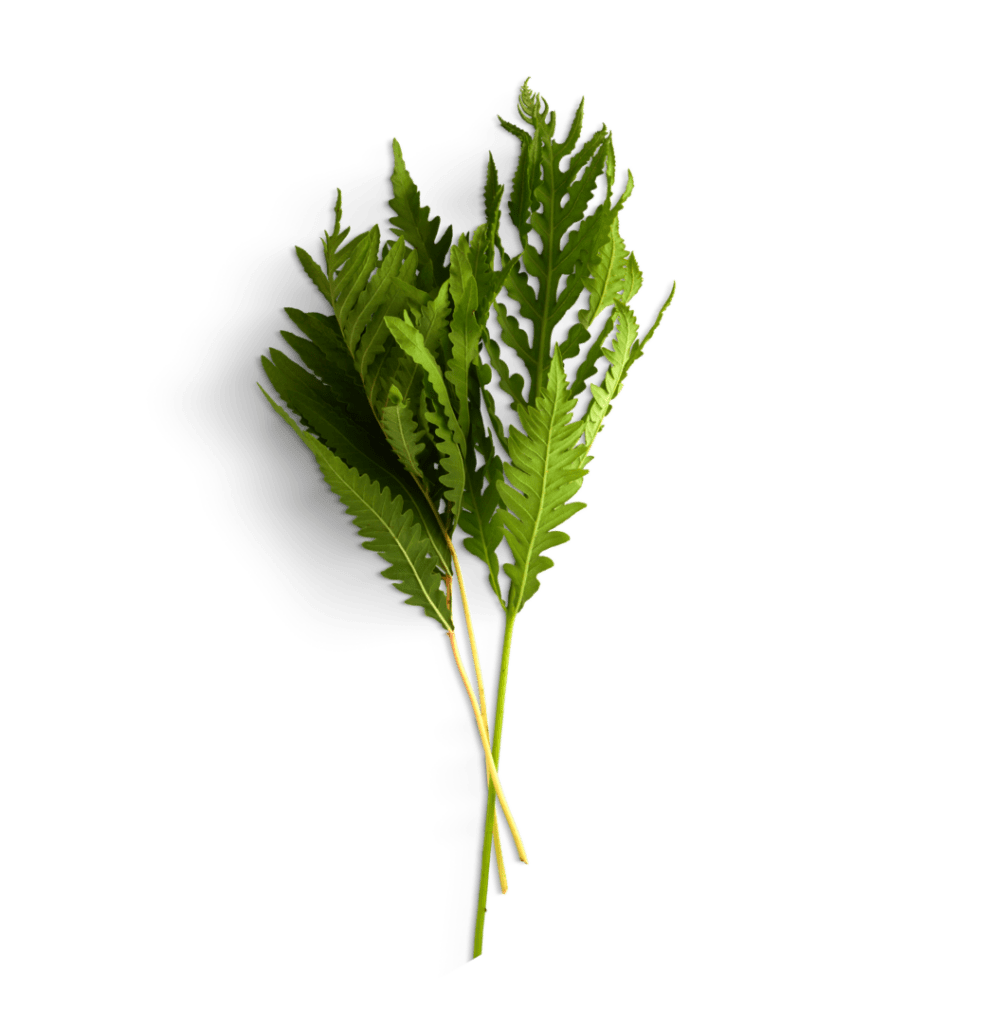 We are a collaborative network of nature-based wellness providers who support our clients' and each other's growth and well-being.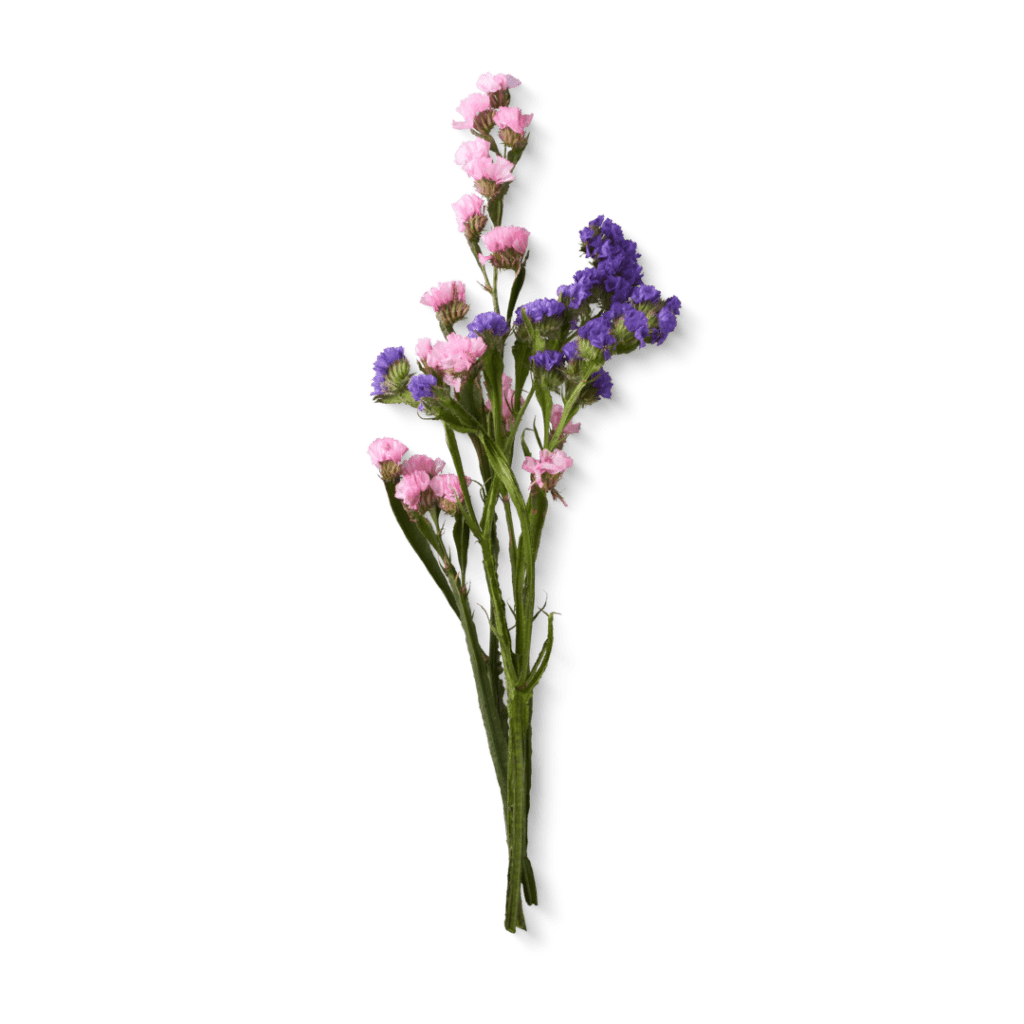 We live our lives with balance, gratitude, purpose, and humour, and we carry this mindset with us as we work with and support our clients.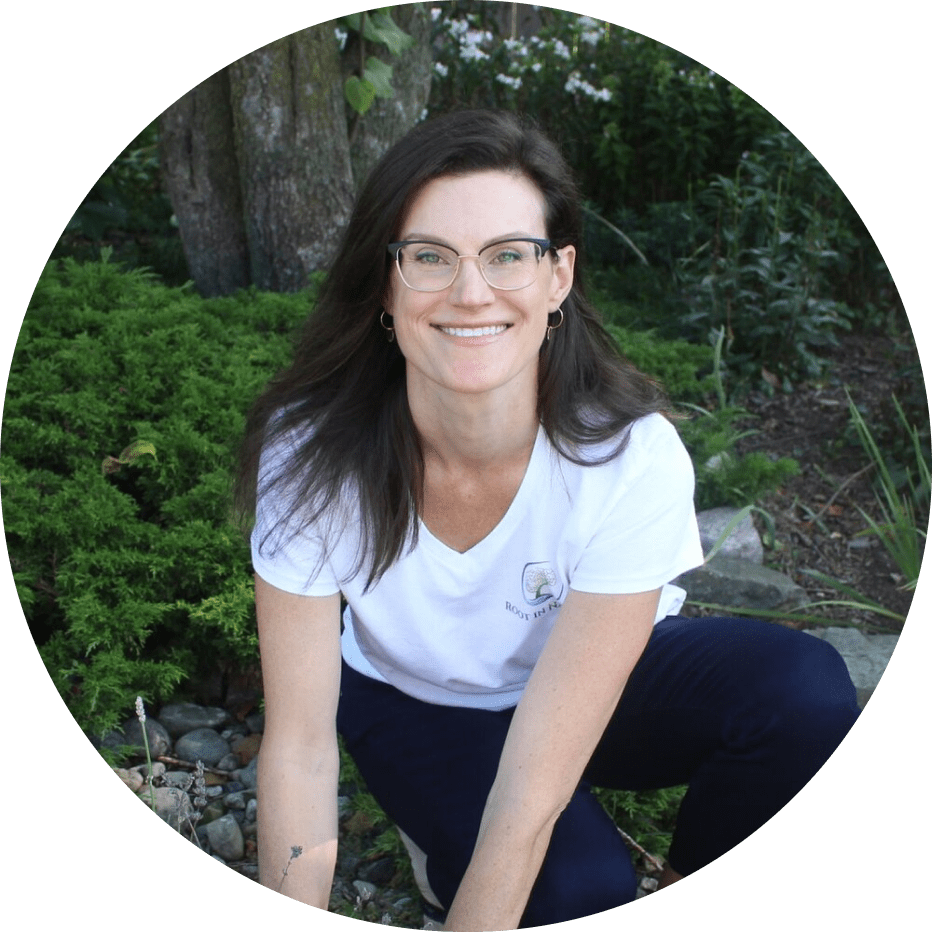 Alexis (she/her) is the passionate founder behind Root in Nature, a venture born out of her deep love for plants, gardening, and the therapeutic benefits they offer.
Holding a BComm in Finance and an MBA in International Development Management, Alexis brings a unique blend of business acumen and a passion for making a positive impact. With 11 years of experience as CEO of Habitat for Humanity in Ottawa and Halifax, Alexis was recognized for both business achievements and community involvement by being named one of Ottawa Business Journal's Forty Under 40.
Alexis's journey into horticulture began through her volunteer work with World Wide Opportunities on Organic Farms (WWOOF), where she discovered the profound connection between nature and well-being. Her dedication to horticultural therapy led her to study the Foundations of Horticultural Therapy and become an active member of the American and Canadian Horticultural Therapy Associations (AHTA & CHTA).
During weekends, you'll find her tending to her fruit & vegetable gardens, cultivating food that her husband skillfully cooks and her two young daughters enjoy.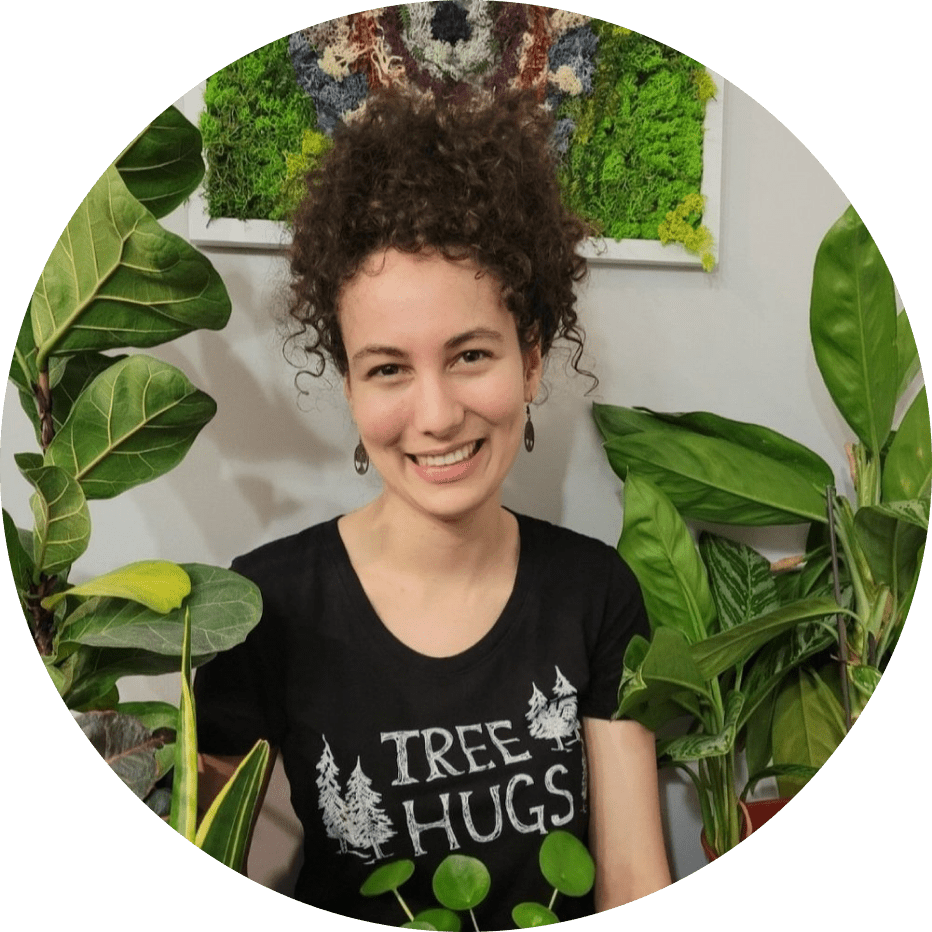 Sarah (she/her) is a Registered Horticultural Therapist (HTR) with the Canadian Horticultural Therapy Association (CHTA). She is on the Registration Committee and a Liaison with the Education Committee of the CHTA. She has been supporting and facilitating Horticultural Therapy and Therapeutic Horticulture programs since 2014.
Sarah works full time as a Horticultural Therapist at Perley Health, a long-term care home for Veterans and community seniors including those with dementia and receiving palliative care in Ottawa, Canada. In 2021, she helped start up the social enterprise Root in Nature with Alexis Ashworth and is the Lead Horticultural Therapist. Sarah is an active member and volunteers with many gardening societies in Ottawa.
Sarah incorporates many complementary therapies, spiritual practices, and cultures in her work. She has training in Reiki and includes energy healing with crystals, herbal medicine, mindfulness, aromatherapy, and numerology.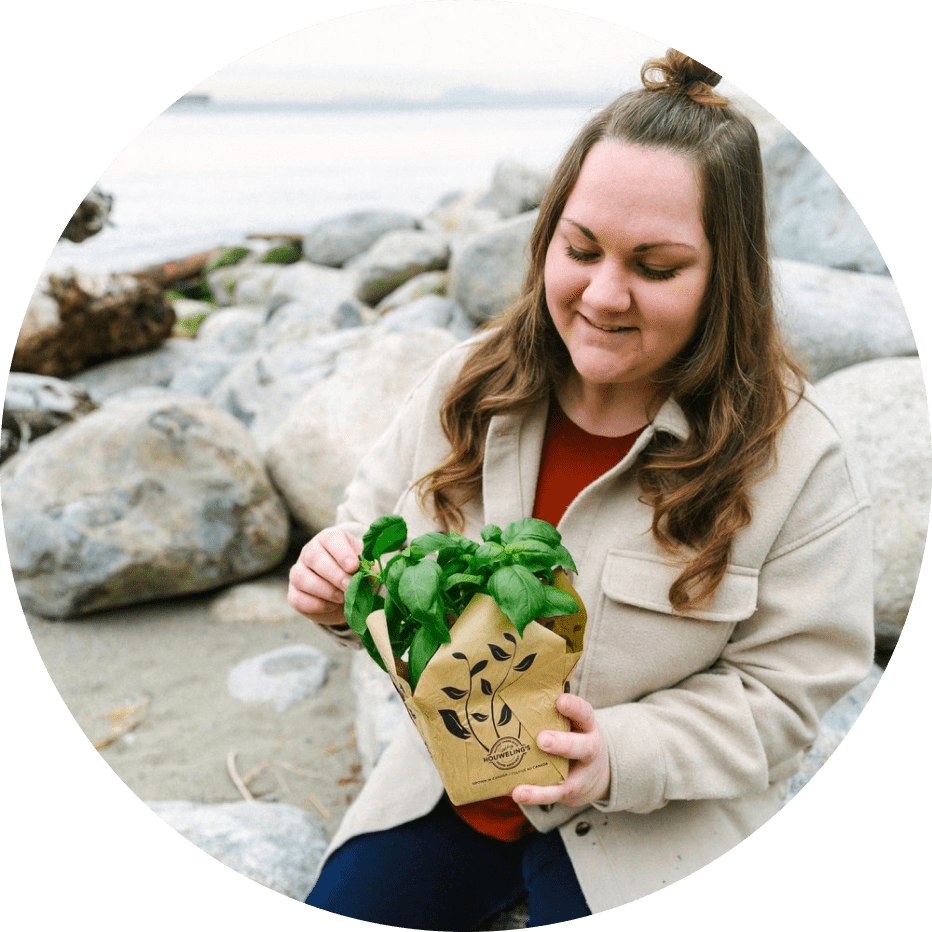 Katie (she/her) is a Registered Horticultural Therapist (HTR) and active member of the Canadian Horticultural Therapy Association. A strong advocate of asset-based community development and reflective practice, Katie has been supporting therapeutic horticulture projects and programs for a wide variety of populations since 2014.
Katie completed her horticultural therapy certificate with Ann Kent and was proud to "build her own degree" in therapeutic horticulture, completing a minor in counselling and majoring in general studies, focusing on courses in horticulture, agriculture, psychology and research. Katie is passionate about increasing access to therapeutic horticulture in communities and facilitates regular in-person and virtual sessions. Her approach is collaborative, client-centred and strengths-based.
Katie is also a major foodie and her work in therapeutic horticulture often intersects with community food security and food justice work. When not in the garden, Katie loves cooking, entertaining and paddle boarding.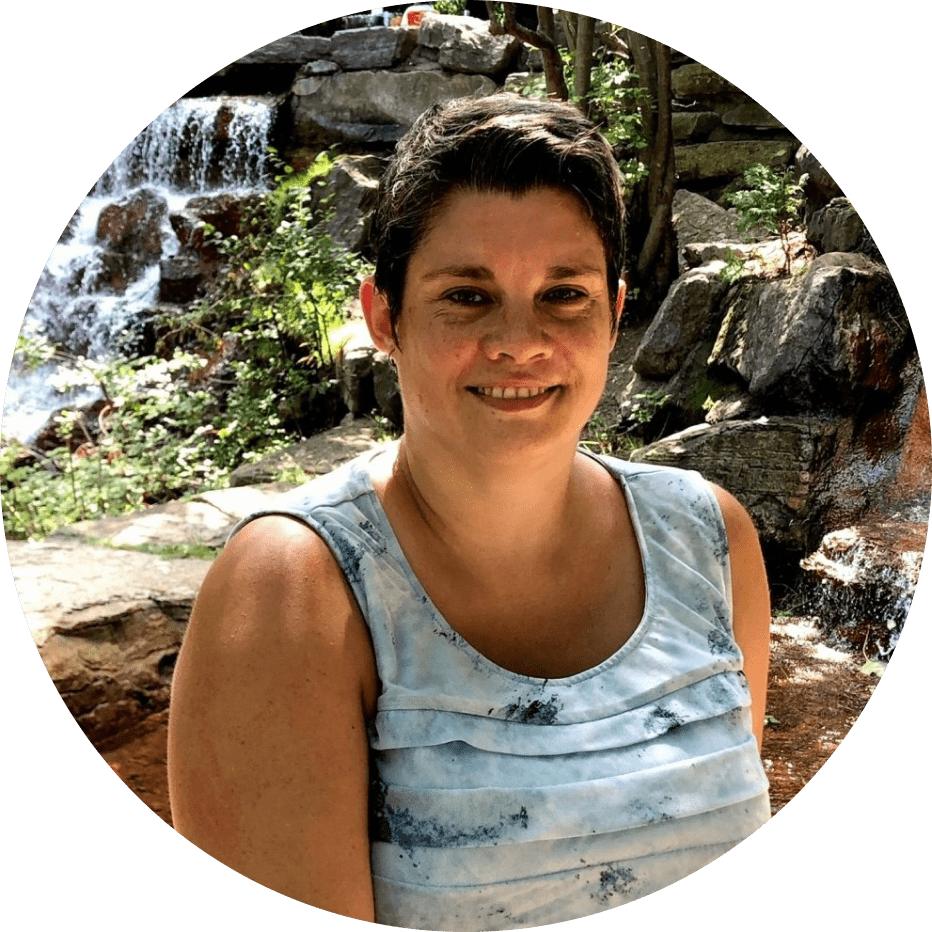 Andrea (she/her) first discovered her love of horticulture by working in a garden centre. Shortly thereafter she enrolled in the Horticulture program at Algonquin College. From the moment she heard the words Horticultural Therapy she knew that she had found her niche. Andrea completed the Horticulture as Therapy course by Mitchell Hewson (the first registered Horticultural Therapist in Canada). Andrea has experience working with Indigenous peoples, designed a horticultural therapy program for the Mamidosewan center, and has learned from various Elders and Knowledge Keepers over the past 19 years.
Andrea has a degree in Psychology (BA) and a certificate in Life Coaching. She has been a volunteer with LiveWorkPlay for six years, working with individuals with mental disabilities. One of Andrea's passions is creating environments that are therapeutic, not only for the client, but for the environment as well. Her other passions include environmentally sustainable landscaping and educating people about the importance of soil health.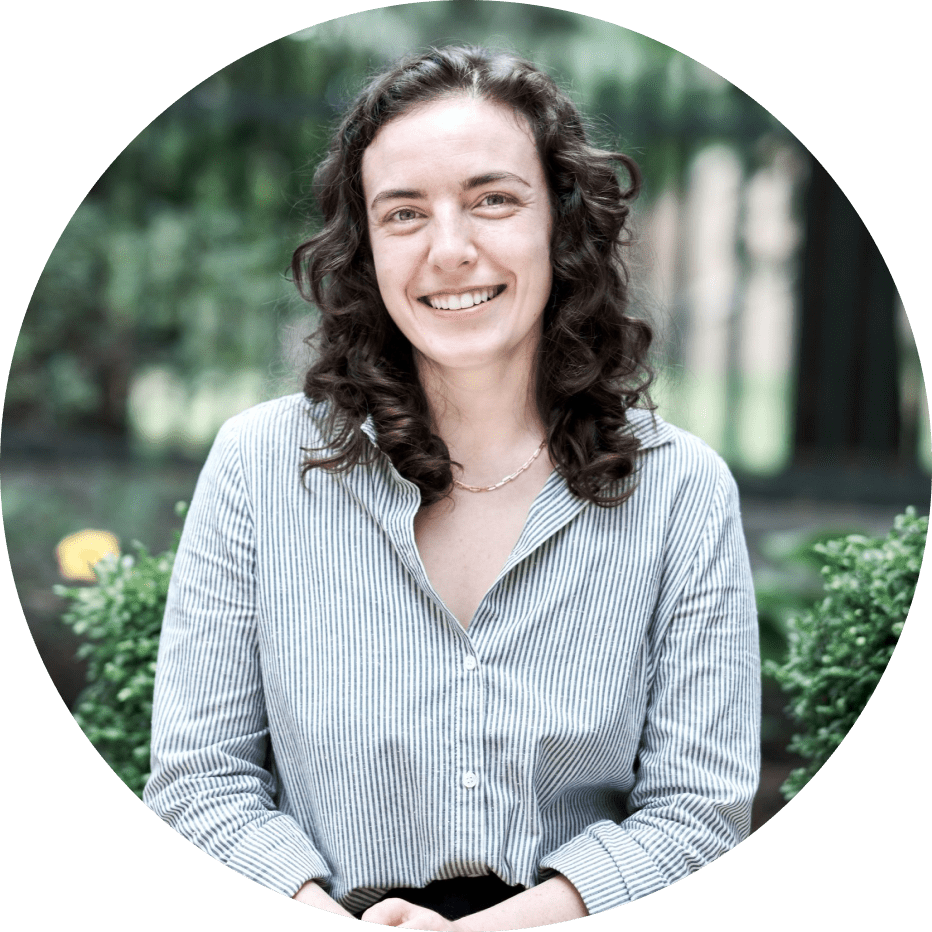 Since the pandemic began, Sarah (she/they) has been intentionally connecting with plants. She has been growing food garden with (encouragingly) increasing amounts of success, discovering tea plants which can be foraged locally, and she finds pruning trees particularly therapeutic. Gardening reminds her to ongoingly practice patience, nurture the more-than-human-world, and awe at the transformations that take place here.
As a climate-aware therapist and member of the Climate Psychology Alliance – North America, Sarah recognizes emotions like climate distress are rational responses to our planetary emergencies. She cares deeply about being of service in the ongoing process of coping by holding space for the wisdom of emotion, building community resilience and elevating the unique gifts each person has to offer our planet. She holds a BSc in Behaviour, Cognition and Neuroscience and a MA in Counselling Psychology.
Given the growing evidence-base supporting the health benefits of spending time in nature, Sarah is also devoted to offering restorative practices such as forest bathing. Sarah aspires to share her playful curiosity and deep love for our planet – she believes connection is the path to healing and wellbeing.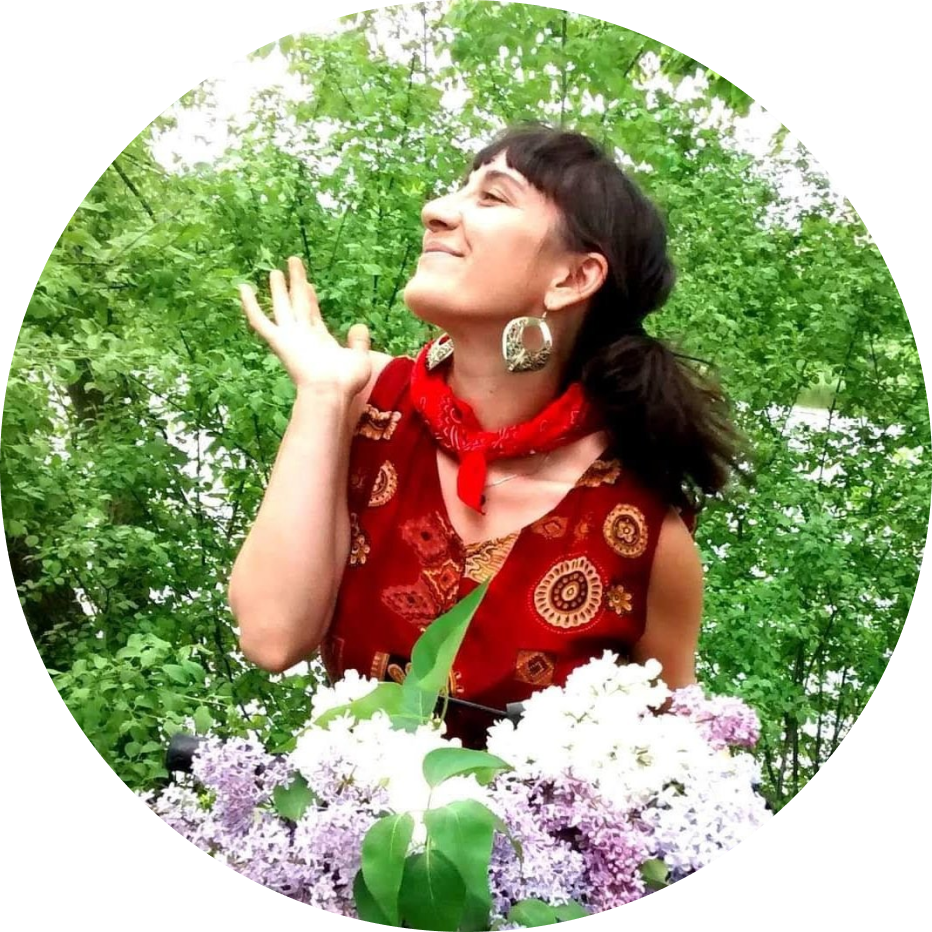 Myriah (she/her) is an Inuk, L'nu, and Scottish woman who was raised on unceded and unsurrendered Anishnaabe Algonquin traditional territory. She has had a lifelong love of the natural world. Learning about organic vegetable gardening with her mother from a young age, Myriah has continued with her passionate curiosity and respect for plants and the Earth. Her dedication to community and culture have led her through many natural expressions of these passions, from grassroots activism and artistry to seeking higher education and work experience that aligns with her generous nature and community minded spirit.
Myriah is approaching 10 years of practical experience with a variety of Indigenous healing modalities. She holds value in her spirituality and traditional teachings. She is a Drum Carrier, Feather Carrier, and a Helper within some Indigenous communities here in Ottawa. She has also facilitated Woman's Healing Circles at Minwaashin Lodge and Art & Music programs for Inuit youth at Tungasuvvingat Inuit.
When she isn't investing her time and energy directly into the community, she is further exploring the natural world and growing her skillsets through the study of Horticulture as Therapy under Mitchell Hewson, tending her own plot in a local community garden, and cooking food that nourishes body and soul.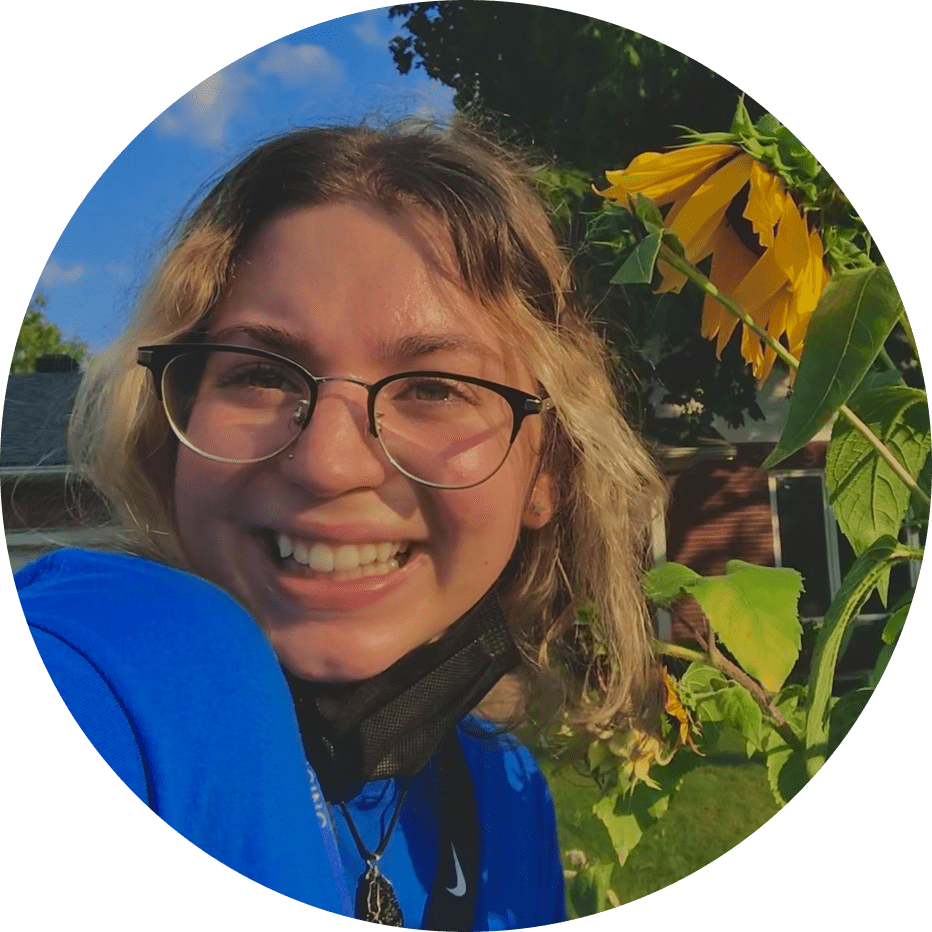 Skyler (she/her/they/them) is currently a Developmental Services Worker student at Algonquin College, and holds a certification in Autism Studies. She works as an educational assistant for the Ottawa-Carleton District School Bored, specifically in special education.
She began volunteering with Root in Nature last summer and hasn't stopped since. As a result of this experience, she has obtained her Certificate in Horticultural as Therapy from Mitchell Hewson. 
Skyler shares that she is autistic herself and finds so many benefits to being outdoors. Some activities she enjoys are gardening, camping, hiking, and swimming.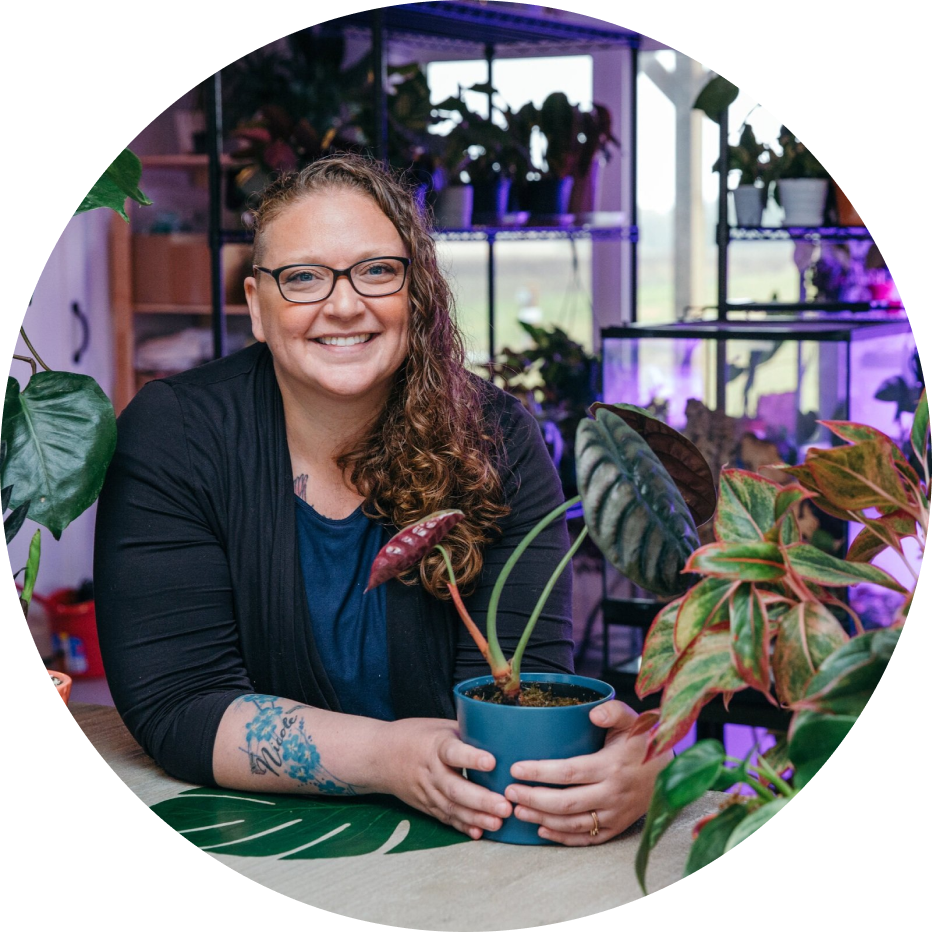 Kristin (she/her) is a twenty-two-year veteran of the Canadian Armed Forces where she achieved success as an engineer, academic and educator. She retired in July 2020, opening Sweetlife Flora, a rare and exotic e-commerce plant shop. Her first book, Propagated from the Ashes, chronicled her recovery from a significant brain injury that shifted her life's direction, focus and purpose. Her interest in Horticulture Therapy began with her own journey to recovery and she hopes to extend the gift of Mindful Horticulture® to others.
During the pandemic and subsequent lockdowns, she and her husband transformed their land, south of Arnprior, Ontario, into an edible oasis. Kristin is working on her second book, aiming to empower readers to find hope through horticulture. In 2021, Kristin was the recipient of the prestigious Prince's Trust International, Aga Khan Foundation Group Award.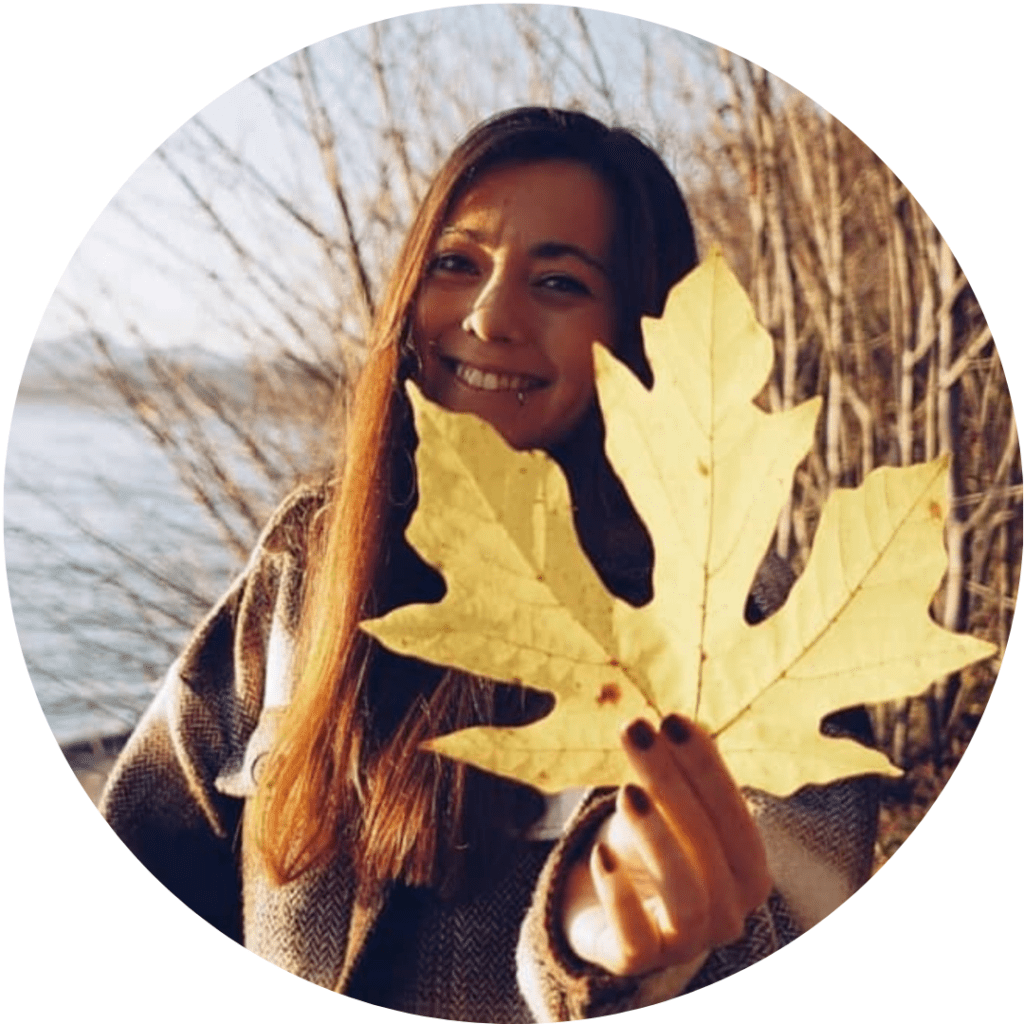 Aoife (she/her) is an independent marketing strategist and digital designer. In 2020, she established Offbeat Media, a boutique digital marketing agency. Aoife has collaborated with a diverse range of clients spanning various industries, such as e-commerce brands, physical retail establishments, and B2B professional services. Her primary goal is to foster connections with brands that have strong social values.
Prior to venturing into entrepreneurship, Aoife forged a successful path as a marketing lead, amassing 7 years of experience collaborating with diverse brands and agencies. While her expertise primarily revolves around visual design and communication, her academic journey began with a pursuit of a BSc degree in Architecture, which instilled in her a profound understanding and admiration for the interplay between the built and natural world. Driven by her unwavering passion for visual arts, she made the transition into freelance graphic design, ultimately earning a second degree, a BA in Creative Imaging. Since then, Aoife has honed her design skills and expanded her repertoire to include photography and videography, which she also pursues as personal passions.
During her formative years, Aoife had the privilege of spending time with her father, who worked as a greenkeeper and gardener, armed with a diploma in horticultural studies. Together, they delved into the world of gardening, nurturing plants both inside and outside the greenhouse. It is likely due to these early experiences that Aoife finds solace and fulfillment in spending time amidst nature whenever she can. She seizes any opportunity to go camping and currently tends to an impressive collection of over 40 houseplants!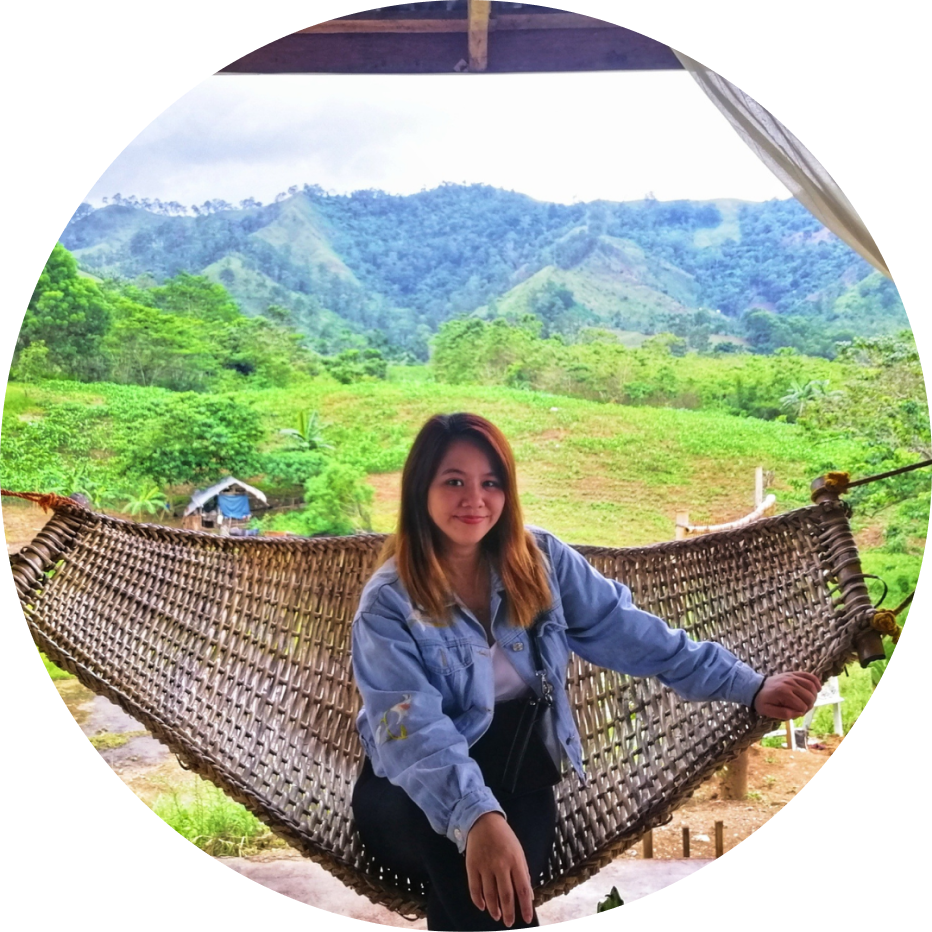 Lani (she/her) is a professional dog cuddler, avid drummer, and shower singer extraordinaire. When she's not jamming out, you can find her cozied up on the bed with a bag of popcorn and a Disney movie marathon.
Nature is her safe place, and she loves taking long walks with her furry best friend, Milo.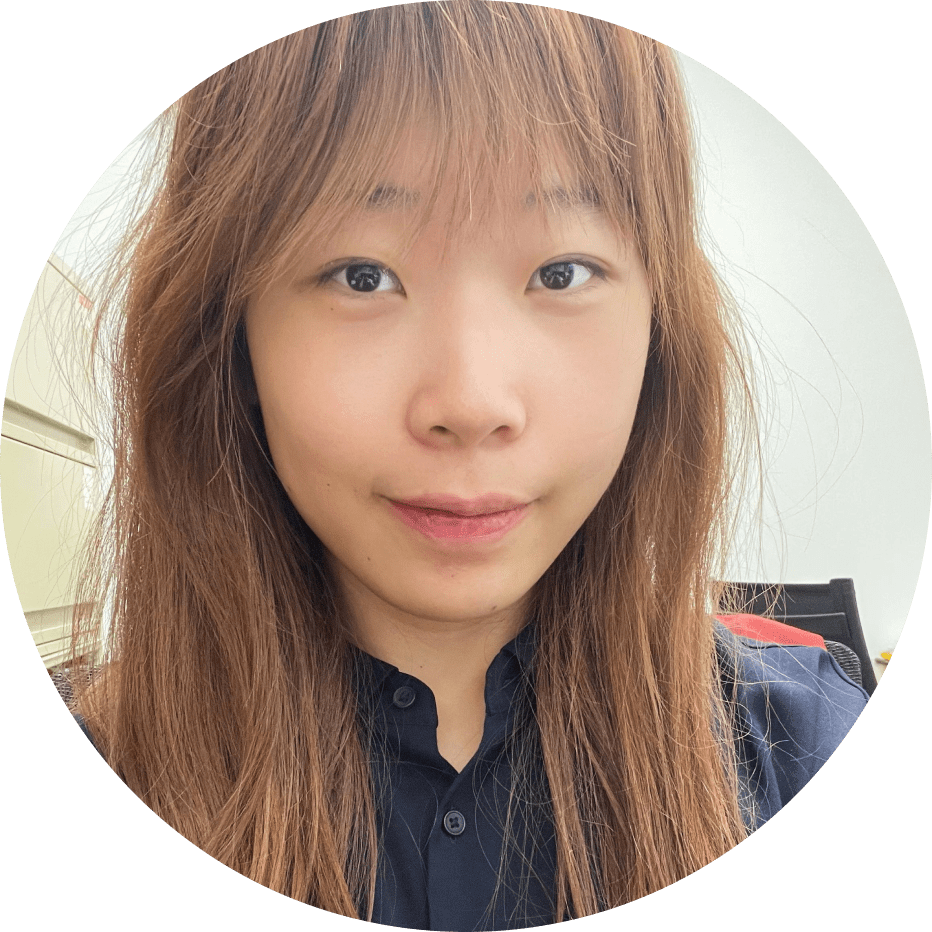 Mary (she/her) is a fourth year student at the University of Ottawa majoring in accounting is thrilled to work as the accounting clerk for Root in Nature. Looking to gain valuable experiences as well as nature experiences as lockdowns really were a barrier to enjoy the outside.
I am currently working with a Not-for-Profit organization am and working towards obtaining my CPA in the near future.
I have a cute loving kitty named MaoMao and in my spare time, I love to hang-out with friends to explore all the big and small restaurants in Ottawa!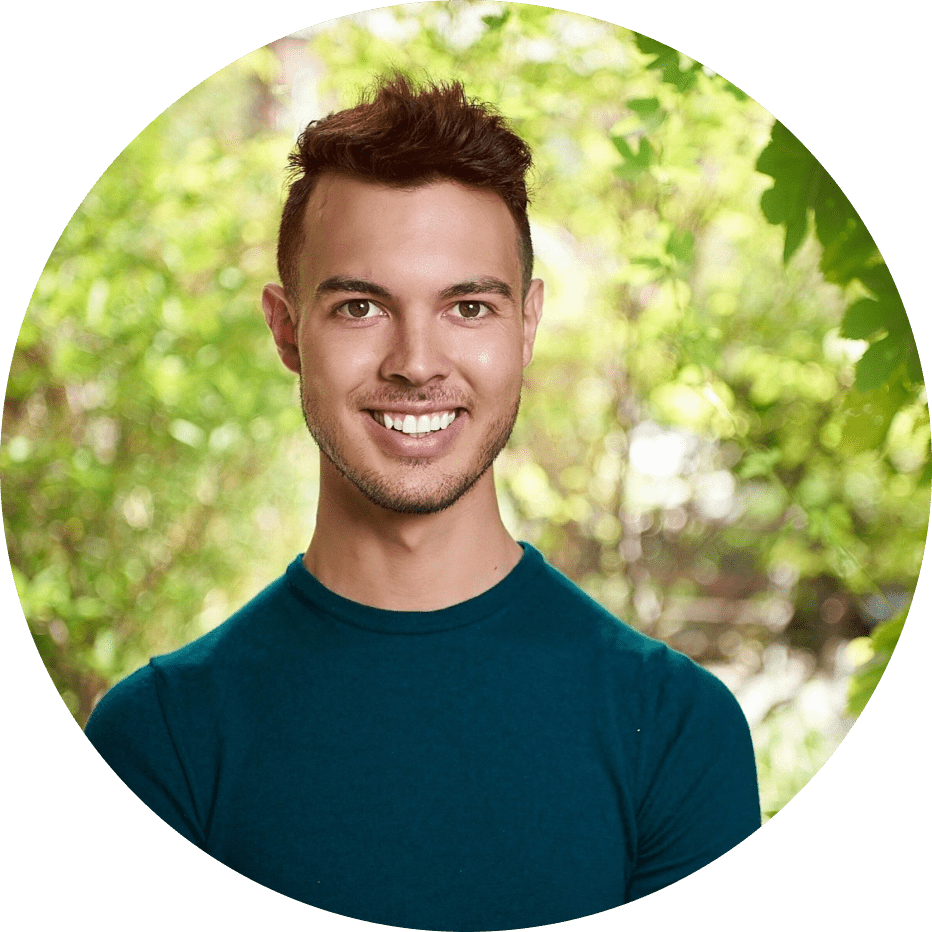 With a knack for making meaningful connections, Dr. Owen has had a long history of guiding and helping others rebuild their health. He isn't interested in appointment-by-appointment solutions, but rather, life-changing transformations. This is why he was recently awarded Ottawa's Best Health Educator of 2022 and with a keen interest in healthy aging and creating a safe space for LGBTQ+ individuals, he's helping close the gap for overlooked patients.
However, naturopathic doctor is only one of the many hats he wears! Dr. Wiseman is a Medical Advisor to an international phyto-pharmaceutical company, a public speaker, consultant and sits on various boards and committees.
His passion is promoting equitable access to nature therapy across North America. He is devoted to using the growing field of evidence supporting the clinical benefits of the great outdoors. As a Director of the Advisory Board of the International Nature and Forest Therapy Alliance, he helps stakeholders incorporate nature-focused principles into their life and work. This involves reconnecting with the world around them and developing programs with corporations and non-profits to help them invest in the health of their team.
Dr. Owen is helping Canadians get WISE about their health!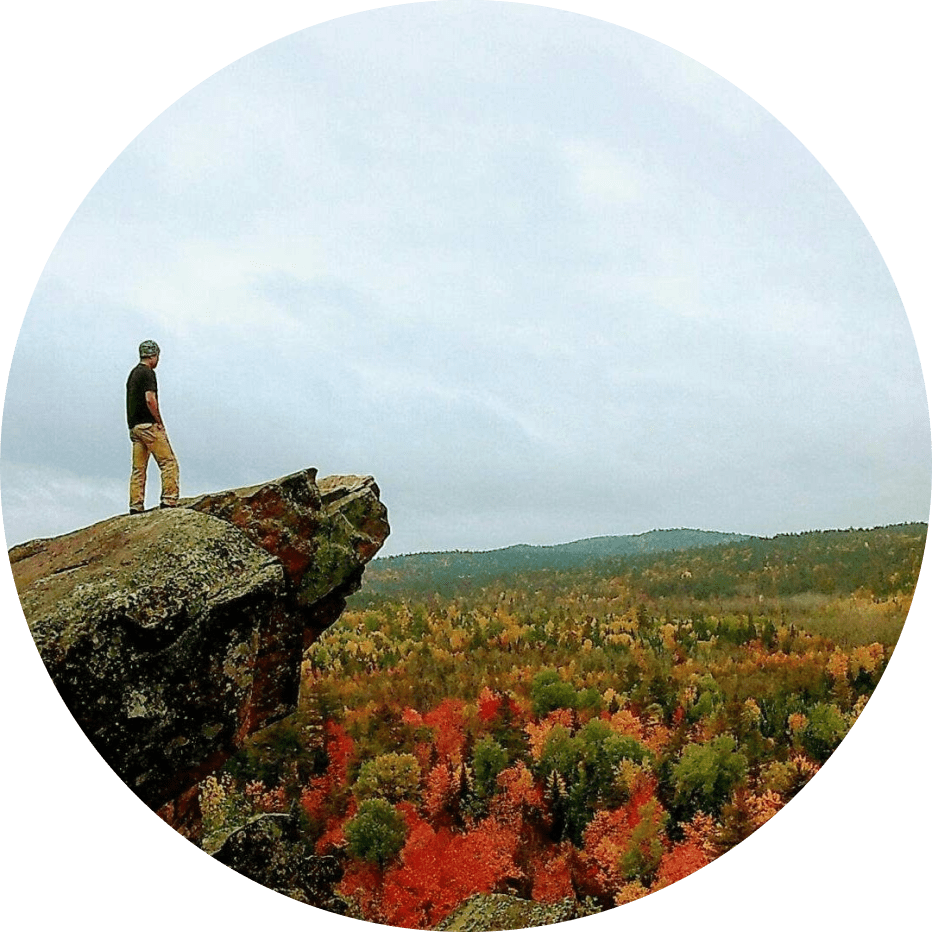 Lei (he/him) is an achievement-oriented finance professional with extensive experience in financial reporting, budgeting, general accounting and business management.
Lei is CPA who has years of working experience in non-profit sector.
He loves sports, such as marathons.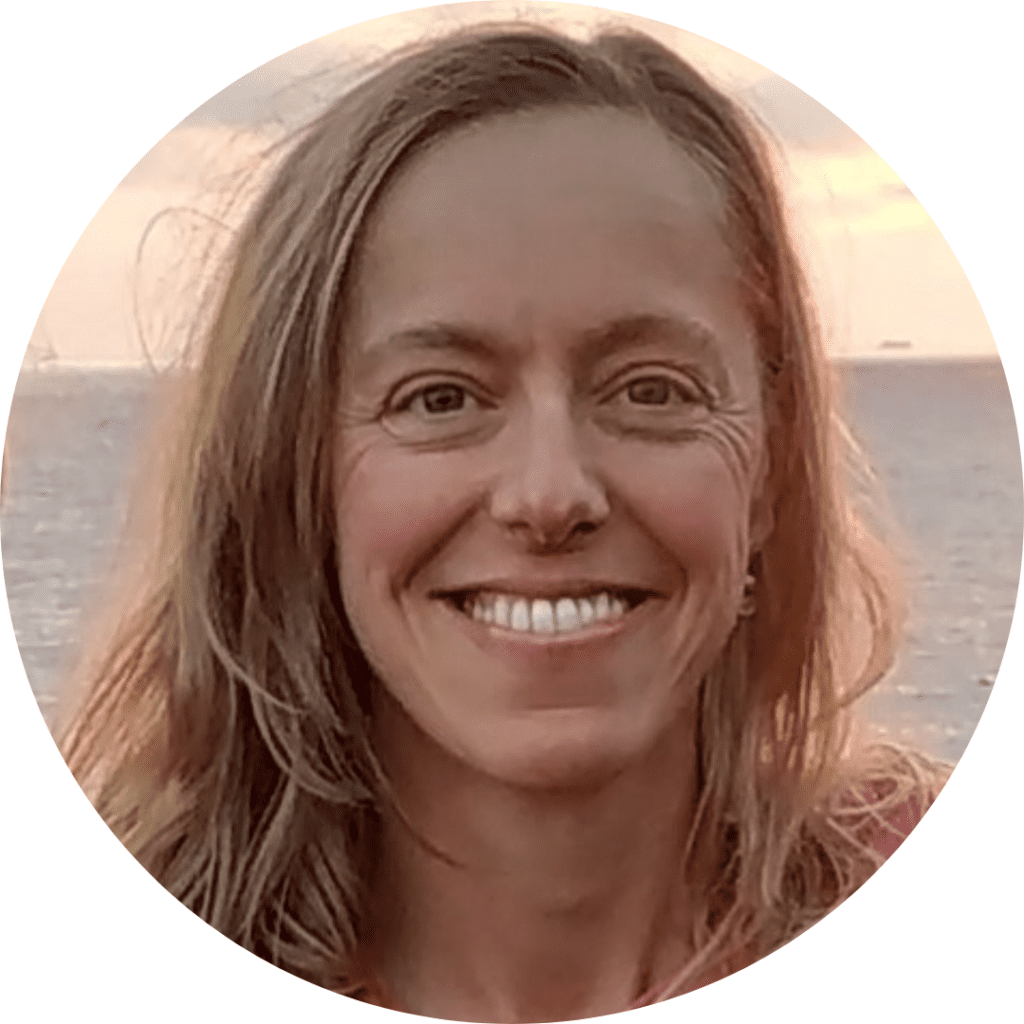 Jennifer is a nature-based educator and Ontario certified teacher with a Bachelor's degree in Outdoor and Experiential Education and an Honours degree in Science with a major in Ecology.  She is passionate about connecting people of all ages to the wonder and power of nature to support wellbeing.  Jennifer has been designing and providing nature-connection programs for children and youth for twenty years while working in provincial parks, outdoor education centres, schools and urban green spaces in Canada and South Africa.  Her love of plants was inspired by time spent with her grandfather in his vast vegetable and flower gardens as a child.  She is an enthusiastic gardener and forager and enjoys making her own herbal tea mixtures, healing salves and herbal tinctures.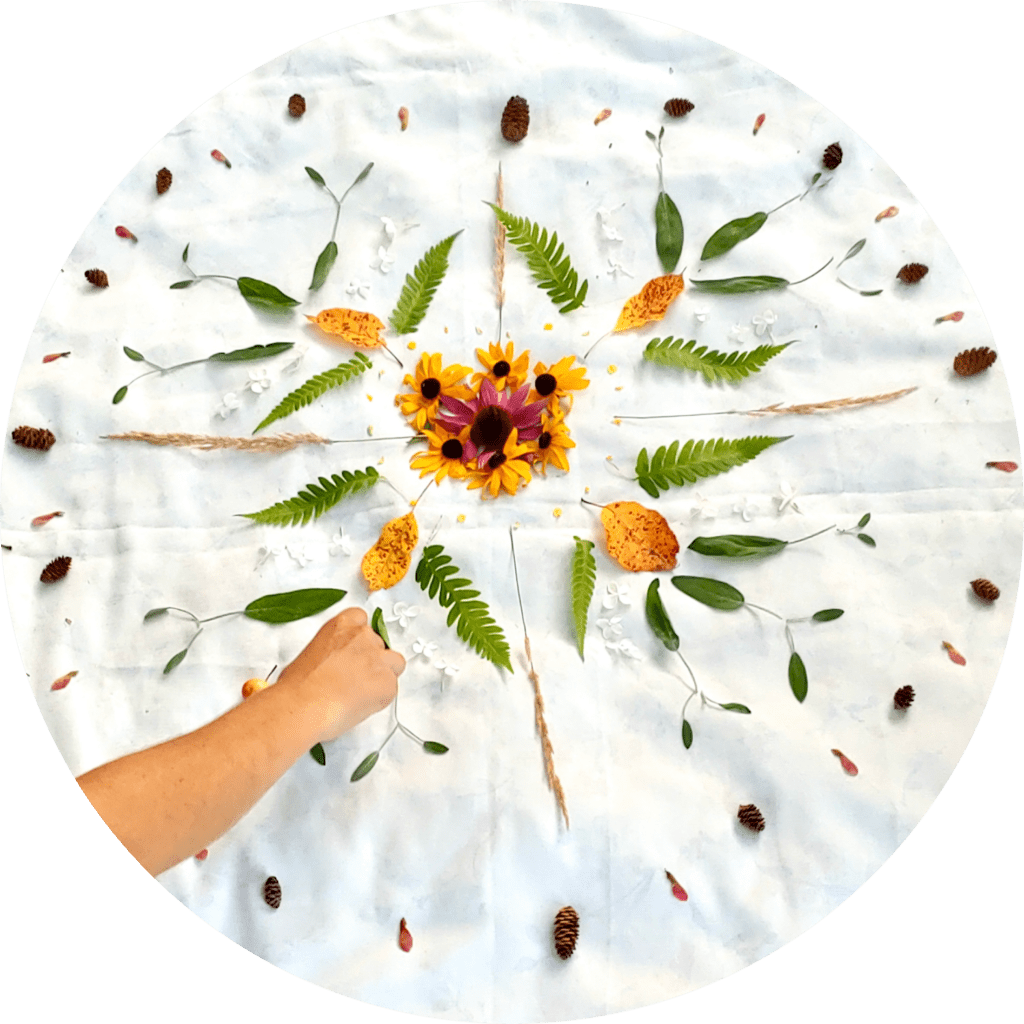 GrowTH – Grow Therapeutic Horticulture is a supportive online international community of horticultural therapists, practitioners, and other professionals delivering plant and nature-rooted sessions.