In a world where stress and mental health issues are on the rise, Root in Nature is on a mission to strengthen human health through the power of plants and nature. One year into the pandemic, Founder and CEO Alexis Ashworth found solace and well-being through consistent interaction with the natural environment.
"It was a stressful time and I maintained strong mental health by engaging regularly with plants, gardening and nature. I wanted to expand and support the field of horticultural therapy and bring this powerful healing modality to a wider audience."
Inspired by her personal experience, she founded Root in Nature—a social enterprise focused on promoting therapeutic horticulture, programs, and education. Now, Root in Nature is proud to introduce its latest initiative, the GrowTH Community—an inclusive and supportive online network specifically designed for horticultural therapists, practitioners, and professionals delivering therapeutic horticulture sessions. 
The Practice of Horticultural Therapy
Horticultural Therapy is a practice that utilizes plants, horticultural activities, and gardens to promote well-being. Despite its immense potential for growth, it remains relatively unknown in many parts of the world. This budding industry offers a powerful healing modality, but it faces various challenges that hinder the ability of therapists to provide the best care possible. Two significant challenges include a disconnection between practitioners, leading to feelings of isolation and burnout, and a lack of practical resources, forcing therapists to spend precious time creating activities and forms rather than directly engaging with clients.
The Solution: GrowTH Community
To address these challenges and empower horticultural therapists, Root in Nature has created the GrowTH Community—an innovative online international network. The community, launching later this month, aims to provide practitioners with the support and resources they need to thrive in their work. By joining the GrowTH Community, members gain access to a range of benefits designed to enhance their practice and foster their professional growth.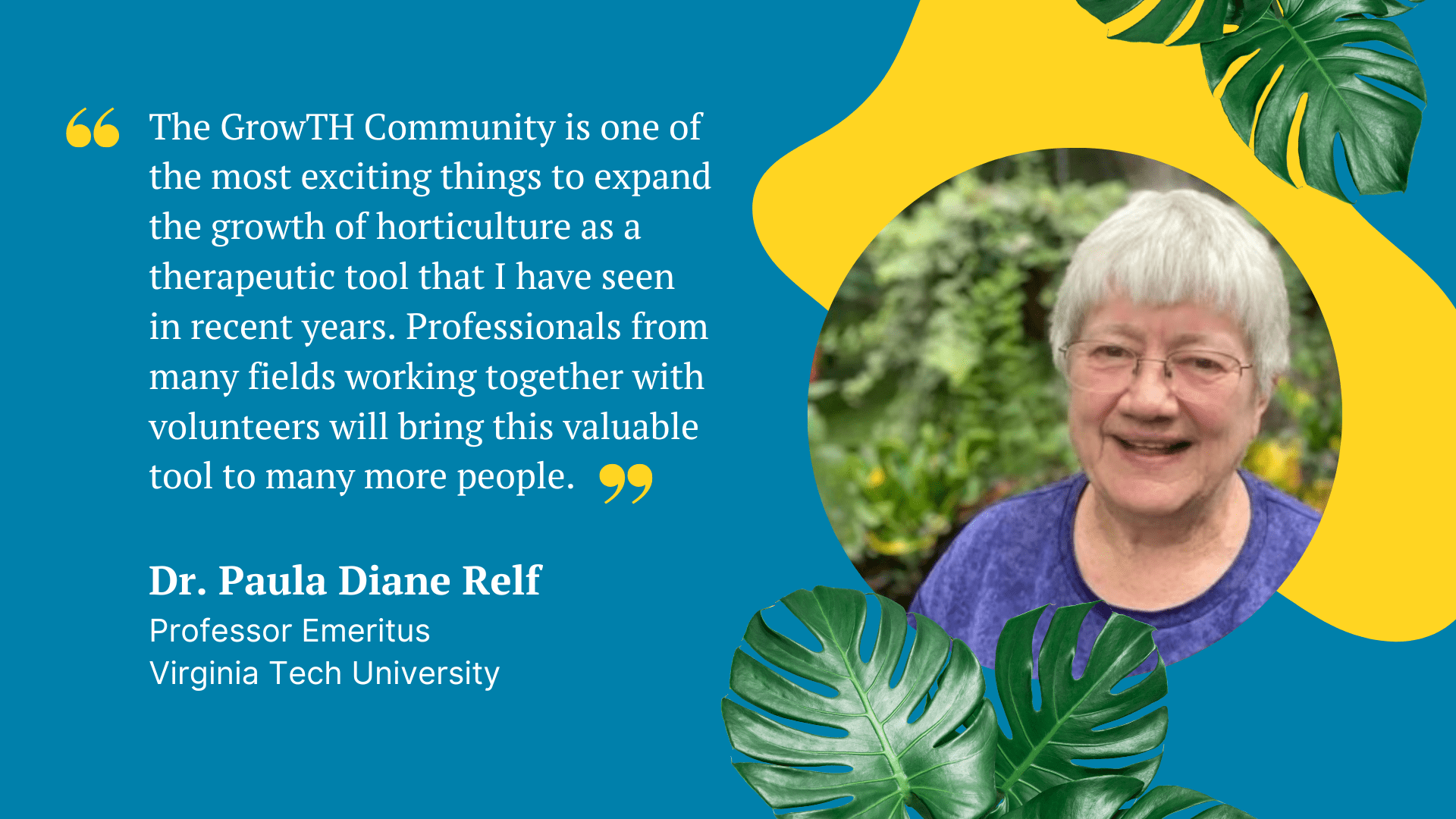 Benefits for GrowTH Community Members
All GrowTH Community members will have access to:

Members can explore an ever-expanding database of therapeutic activities, with four new additions each month. The database allows for easy sorting based on wellness domains, cognition levels, required materials, and virtual delivery options. Whether practitioners are looking for check-in exercises, mindfulness activities, or creative projects, they will find a wealth of options at their fingertips.
The database will be sortable in the following ways:
Type – check-in, mindfulness, activity & check-out

Material requirements – cost vs. no cost

Domains of wellness  – physical, cognitive, emotional, social, sensory & creative

Season

Indoor / Outdoor

Physical exertion required

Population / cognitive ability requirement

Ability to deliver virtually

Say goodbye to starting from scratch! The community's resource library is a treasure trove of valuable assets, including intake forms, evaluation forms, budgets, trivia and job descriptions. These resources save time and effort, enabling therapists to focus on delivering effective therapy and improving client outcomes.

Monthly Check-ins and Q&A
GrowTH Community members can participate in monthly one-hour check-in and Q&A calls with a registered horticultural therapist. These calls provide a supportive environment where therapists can seek guidance, share experiences, and engage in ongoing professional development.

The community facilitates connections between like-minded individuals through personal profiles and engaging group chat forums. Whether therapists are seeking regional connections or want to delve into specific topics, the GrowTH Community fosters meaningful connections and knowledge sharing.

Online Events and Guest Speakers
Stay inspired with online events featuring guest speakers who delve into relevant topics in the world of horticultural therapy. Members have the opportunity to expand their knowledge, connect with fellow practitioners, and gain fresh insights into the field.
A few of our guest speakers include: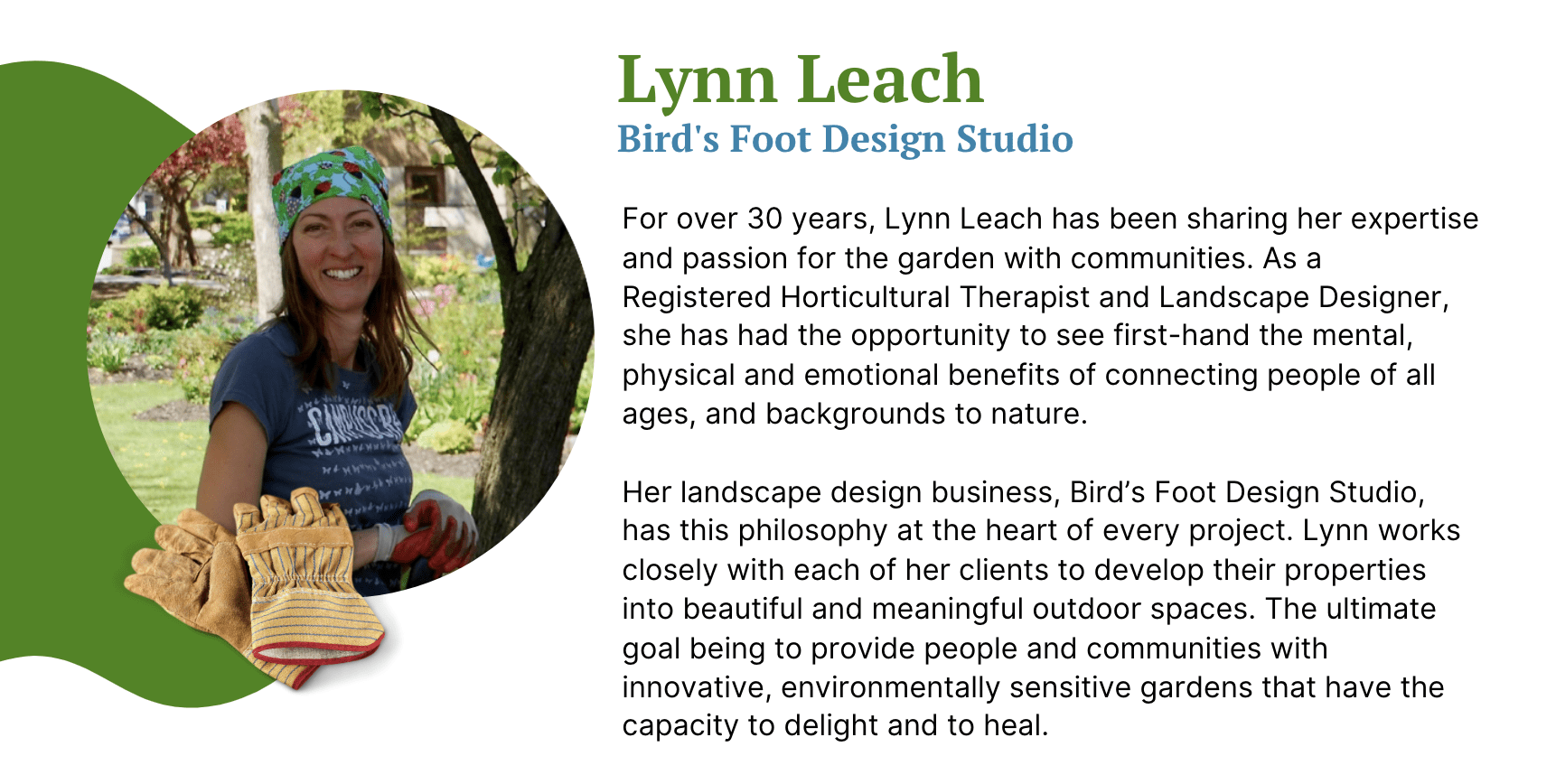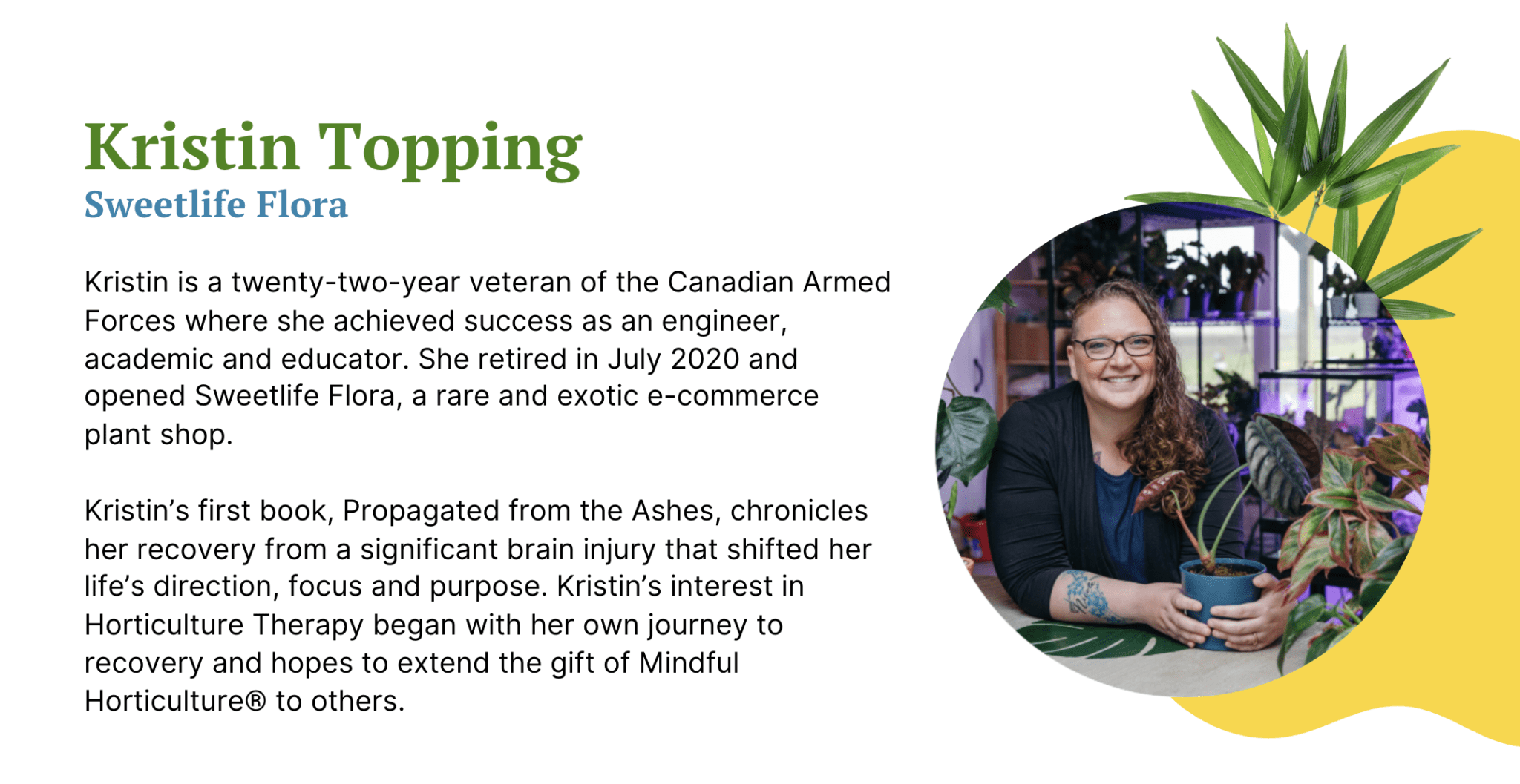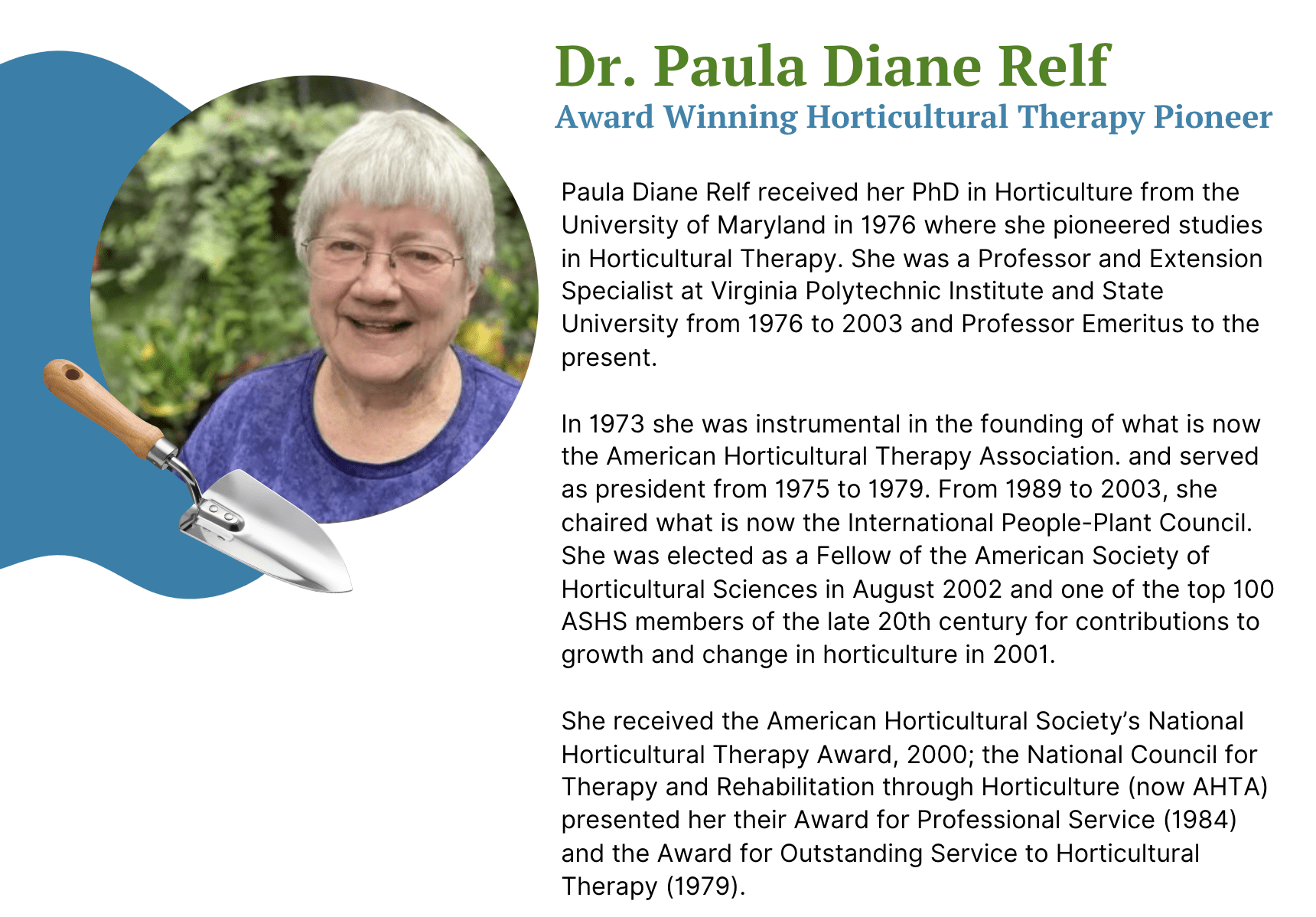 Meet Your Community Lead: Katie McGillivray
Katie (she/her) is a Registered Horticultural Therapist (HTR) and active member of the Canadian Horticultural Therapy Association.
A strong advocate of asset-based community development and reflective practice, Katie has been supporting therapeutic horticulture projects and programs for a wide variety of populations since 2014.
Katie completed her horticultural therapy certificate with Ann Kent and was proud to "build her own degree" in therapeutic horticulture, completing a minor in counseling and majoring in general studies, focusing on courses in horticulture, agriculture, psychology and research. 
Katie is passionate about increasing access to therapeutic horticulture in communities and facilitates regular in-person and virtual sessions. Her approach is collaborative, client-centered and strengths-based
Join The GrowTH Community
Are you ready to embark on a journey of personal and professional growth? Root in Nature invites horticultural therapists, practitioners, and professionals from various fields to join the GrowTH Community. By embracing the power of therapeutic horticulture, connecting with peers locally and internationally, and accessing valuable resources, you can elevate your practice and contribute to the growth of the therapeutic horticulture field.
Registration is coming soon!
To learn more and launch a free trial to the GrowTH Community, visit the Root in Nature website at www.rootinnature.ca.